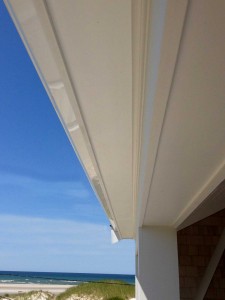 Artisan Gutters is your Cape Cod specialist for seamless gutter installations. With over 20 years of local installation and maintenance experience, we at Artisan Gutters know what gutter systems work for Cape Cod. The seamless gutter systems we install will not leak and are the undeniable best choice for your home.
What makes an Artisan Gutters Seamless Gutter System your best choice?
Simply put, Artisan Gutters employs only professional installers, utilizing only the highest quality materials. We take pride in never sacrificing on quality, while treating every customer with the attention and respect they deserve. Take comfort in the security of a 10-year warranty against manufacturer and installation defect on all of the work we do. With over 20 years of industry experience, you can trust your seamless gutter installation to us.
Seamless gutter systems improve on out-dated aluminum sectional gutters by eliminating the points most prone to leakage, and utilizing improved hanger systems for a more discrete, and more secure, gutter system. Committed to making your new system last, Artisan Gutters has the skills and services to protect your investment, no matter the size or complexity. Our advanced leaf protection systems, coupled with our maintenance and cleaning programs, we will keep your system fully-functional for many years to come. We are professionally equipped to handle any job we take, be it installing a system in an existing home, safe-guarding a new home, or protecting your business or commercial property. Don't allow one of the most important components of your home be handle by an inexperienced landscaper or general contractor. Trust the fully insured pros at Artisan Gutters to get the job done right, the first time, on time. Contact us today to schedule your courtesy, on-site estimate!