Artisan Gutters has compiled a list of the top gutter problems on Cape Cod. We've been fixing issues for over 25 years now. This experience has taught us exactly what to look for in the harsh Cape Cod climate.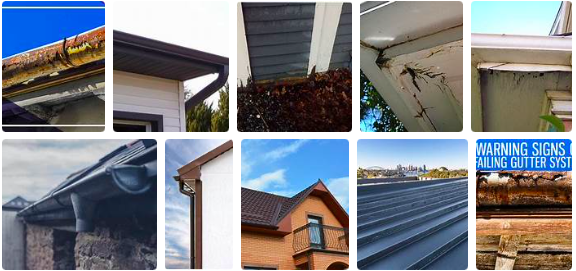 Leaky Gutter Joints
One of the reasons why we install seamless gutters is because the seam is the most vulnerable part of a gutter system. If your seams separate, it could result in a failure in your gutters and water seeping into the siding or foundation.
Rusty Gutters
Cracks, splits and rust can be a sign of an eroding system that needs to be replaced. If your gutters or downspouts have signs of rust, call us for a free consultation.
Sagging Gutters
Saggy gutters are a sign of excess debris in your system. Clogs can weigh the system down and pull the gutters away from your structure. Rotting can also occur at the old contact spots where the gutters were fastened to your home or office. Saggy gutters will eventually fail completely and could cause catastrophic damage to the structure.
Pooling Water
Pooling water is a tell-tail sign that there is a failure. Compound this problem with a heavy amount of rainfall and a total failure may occur. Mold and mildew could also accompany the pooling water. Flooding in your basement could follow heavy rainfall and result in cracking and foundation damage. A good way to prevent this is to inspect your gutter system after rainfall. We recommend inspecting the system at least twice per year.
Prevent the premature failure of your gutters by hiring the right gutter installer on Cape Cod – Artisan Gutters! Our system will ensure water is. flowing properly through your system and to the proper drainage area.